There is an under-representation of women in the Computer Science field in higher education, academia and industry. I have a special interest in promoting a gender balance in my field, and am active in a number of groups trying to inspire young women to join our exciting subject.
Some of my activities in this area are:
Project lead for the MMU School of Computing, Mathematics and Digital Technology Athena SWAN project (2014-2018).  Athena SWAN aims to address the gender gap in academia for STEM subjects.
I am Chair of the IEEE UK and Ireland Women in Engineering group (2019; Vice-Chair 2016-2018).
I have been an active committee member of the IEEE Women in Computational Intelligence Group since 2012 (2012-2018). The subcommittee of the IEEE Computational Intelligence Society aims to engage and attract women into the exciting field of computational intelligence (Artificial Intelligence), and has an international remit.
I write about ways to improve the gender balance in STEM, e.g. "7 Practical Ways Parents Can Inspire Girls to Get into STEM", Huffington Post, 15-Mar-18
I support a local Manchester group, started by one of MMU's MSc students Dinal Limbachia, called Stop Talking Start Doing, whose members aim to actively inspire women to get involved in Technology.
Women in Computer Science – Making the future happen today: I took part in a short student film to promote the study of Computing to teenaged girls.
I am a member of IEEE Women in Engineering, which is the largest international professional organization dedicated to promoting women engineers and scientists and inspiring girls around the world to follow their academic interests to a career in engineering. Check out this interesting eBook showcasing women's career paths in the different fields of engineering, including Computer Science (starting at page 100).
I organise and speak at events to promote computer science as a fun topic for girls and women (see Activities).
I am a STEM Ambassador, running activities and speaking in schools.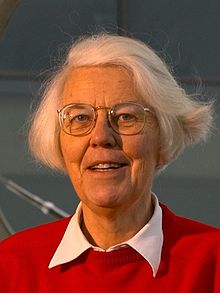 "I think it's very important to get more women into computing. My slogan is: Computing is too important to be left to men."